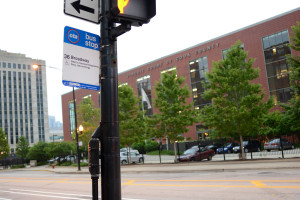 Domestic Violence Legal Clinic – Emergency Services
Cook County Domestic Violence Courthouse
555 W. Harrison, Suite 1900
Chicago, IL 60607
Phone: 312.325.9155
Fax: 312.325.9169
Domestic Violence Legal Clinic – Extended Services
17 N. State Street, Suite 1390
Chicago, IL 60602
Email us at:
info@dvlcchicago.org
For Legal Notices Only:
OPNotice@dvlcchicago.org
FLNotice@dvlcchicago.org
Website address:
www.dvlcchicago.org
DVLC is located on the ground floor (Suite 1900) of the Cook County Circuit Court Domestic Violence Courthouse at 555 W. Harrison Street in Chicago, Illinois.

The Courthouse is located approximately one block south of the CTA "Blue Line" Clinton stop, and across the street from the Greyhound Bus Station. Parking is available, but limited. Childcare is provided by the Children's Advocacy & Childcare Center (Suite 1800) located in the building on the ground floor.
*Please be advised that all entering this secured facility are subject to search.