We need your help. Our clients need your expertise.
The Pro Bono Project is a partnership with the Domestic Violence Division of Cook County to help meet the legal needs of victims of domestic violence. The Pro Bono Project utilizes volunteer attorneys from area law firms and corporations to provide free representation for domestic violence victims. Pro Bono Project attorneys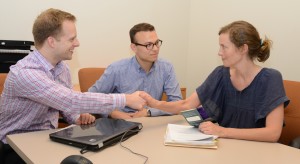 represent clients in civil order of protection cases from their inception until their conclusion. Pro Bono Project volunteer attorneys have an opportunity to practice interviewing clients, gain litigation experience, and manage their own matter while also helping clients to safely free themselves from abusive relationships.
Click here for a list of employers that participate in the Pro Bono Project.
If you would like to learn how to get involved, contact the Director of Pro Bono and Training.
Click here to watch the DV Pro Bono Project Training Video.